Here is an example of a normal 5am to 10pm lighting schedule, without using astro scheduling.

The slider on the left, slanting left,

represents a zone or locations "OPEN" time  and the slider on the right, slanting right,

the zone or locations "CLOSE" time.  When enabling astro scheduling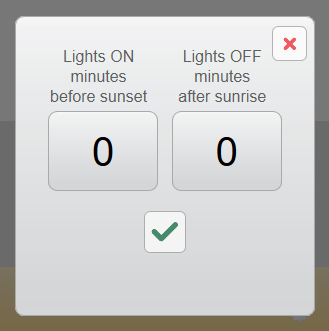 , the schedule will now change to reflect actual lighting states throughout the scheduled times. 

To adjust the "CLOSE" time to accommodate an AM close, simply pull your right slanting "CLOSED" slider to the left until it overlaps your left slanting "OPEN" slider and lines up with the the AM close time.  Seen below is a 5:00 AM OPEN and a 1:00 AM CLOSE.